Why do tech companies only hire engineers in Boulder?
April 5, 2020

Type 'tech jobs in boulder' into Google and you'll find every major player: Google, Apple, Amazon, Facebook, Twitter, IBM, etc. You'll quickly find that those companies almost exclusively hire software engineers and have no non-technical roles available. But why do they only hire engineers in Boulder when other offices have other types of staff? Why do so many companies have solely an engineering team in Boulder?
The city has a uniquely lethal combination of a highly condensed, highly educated, and low cost pool of software engineers. It also has access to a metro area of 5MM non-engineers - but they don't get hired. Let's establish why they hire engineers, and then why they don't hire non-engineers.
Building an engineering team in Boulder, compared to other cities:
1. Boulder is extremely educated
Boulder has an excess of educated people - if you were to grab a dozen random people in downtown boulder, 1 of them would have a PhD. An additional 4 would have a masters degree, and an additional 4 would have a bachelor's degree. On average Boulder has twice as many college degrees as an average US city.
This means the talent pool in the city is significantly better than most other places. But, there are ~17 other cities more educated than Boulder, so that can't be the only reason.
2. Access to university students
Like many California hubs, companies in Boulder pull talent from the local university. But unlike most of the other 17 most educated cities, this one has a powerhouse engineering school. Ranked #31 in the US overall with three programs in the top 10 it outputs quality education.
The talent pool in Boulder is not only educated, but that education is quality. That still doesn't put Boulder above other cities like Chicago, Bethesda/DC, Cambridge, or even Ann Arbor Michigan.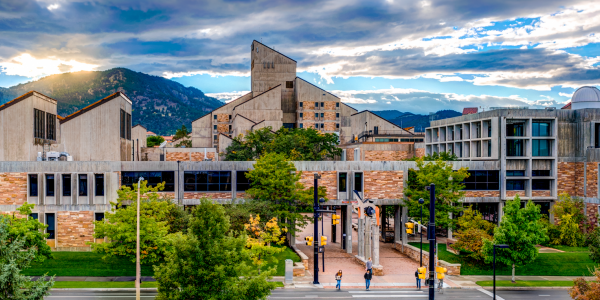 3. Volume
Outside of arts and sciences, most students in Boulder are engineers. 20% of students (graduate and undergraduate) are in an engineering program. So Boulder has a lot of educated engineers. But the city also has access to nearly the entire front range (the area in Colorado just outside of the mountains, housing nearly 5 million people). Most comparable education hubs do not have a sprawling suburbia of additional candidates just down the road.
4. Cheaper than SF/NYC
You can pay an engineer in Boulder massively less than on the coasts. A person making $300,000 in SF can achieve the same standard of living in Boulder for less than $200,000. Hiring 10 engineers in Boulder compared to SF saves ~$1MM.
Clearly building an engineering team in Boulder is a good choice. Countless companies have made this choice. But they've also made another choice - to only hire engineers and almost no one else. There is a metro of 5MM people within a reasonable commute and thousands of non-engineers, but still highly educated, students coming out of the university. Why are these resources not tapped?
Not hiring non-engineers:
1. Building Constraints
In 1967 the residents voted on a tax to purchase farmland and open space surrounding the city. This self-inflicted isolation created a severely finite amount of space. The city is 25 square miles - half the size of SF proper, and much smaller than NYC's 300 square miles. With a ring of nature preserves around the city it is impossible to expand laterally. To make the problem worse, building codes are punishing. No structure can be built more than 4 floors in order to preserve the view of the mountains. It's incredibly difficult to build or buy large buildings in the city, since they simply do not exist and can not be built.
(Google managed to buck this trend by building a 1,500 person campus which cost over $130MM)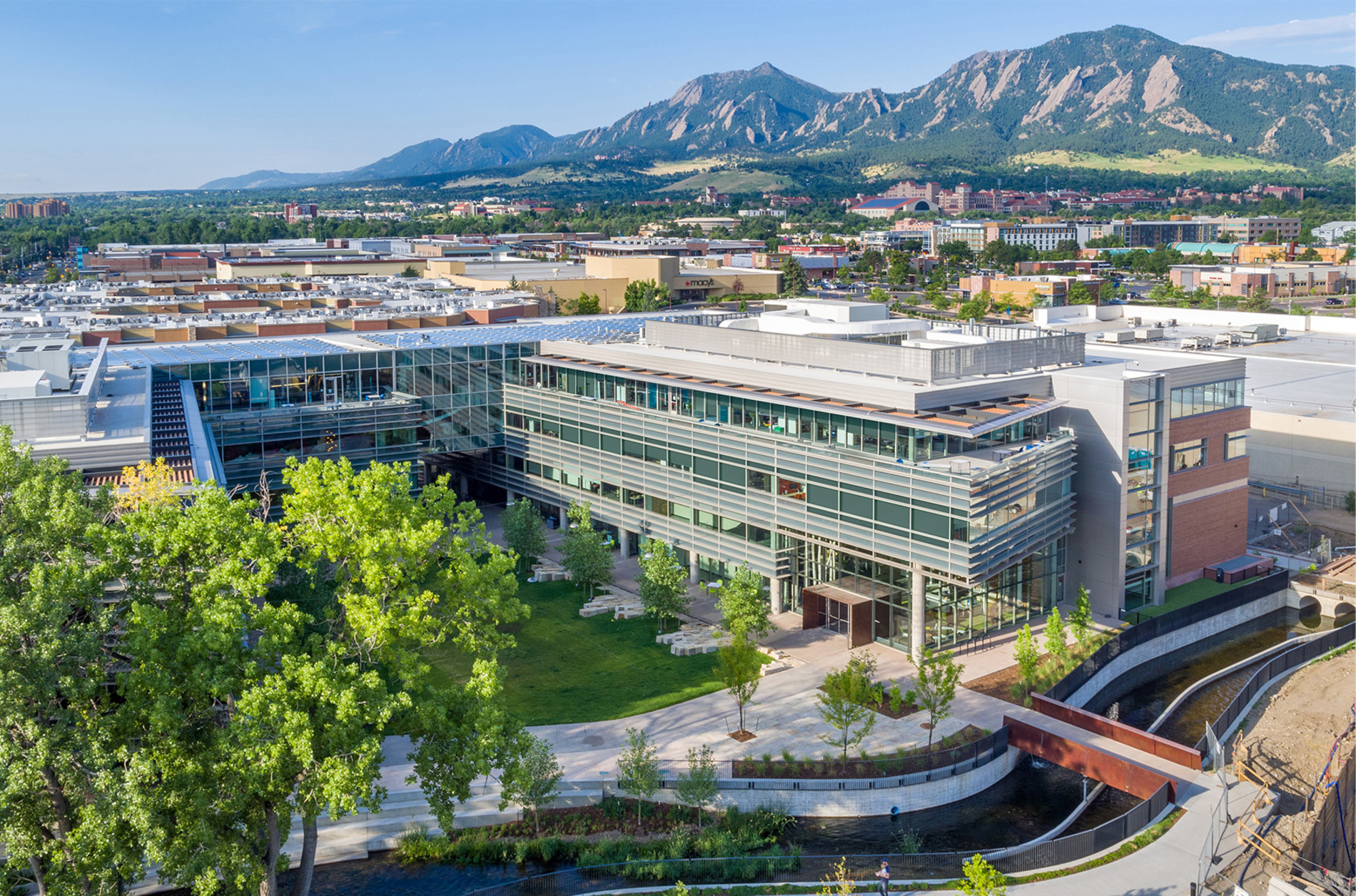 As an interesting side effect, the small towns and areas on the outside of Boulder's isolation ring have been growing and attracting large campuses. Louisville [pronounced "lewis ville"] and surrounding areas house massive campuses for Oracle and others. (Partners Group built a $40MM campus next to Oracle last year, Oracle's campus has 7 different buildings).
But within the city's limits it's simply not economical to build a corporate campus. Google struggled for years to find a build site and actually purchase the properties. The image below shows the closest area to Boulder filled with developments that need a lot of land (shopping malls, golf courses/resorts, corporate campuses, and large apartment complexes).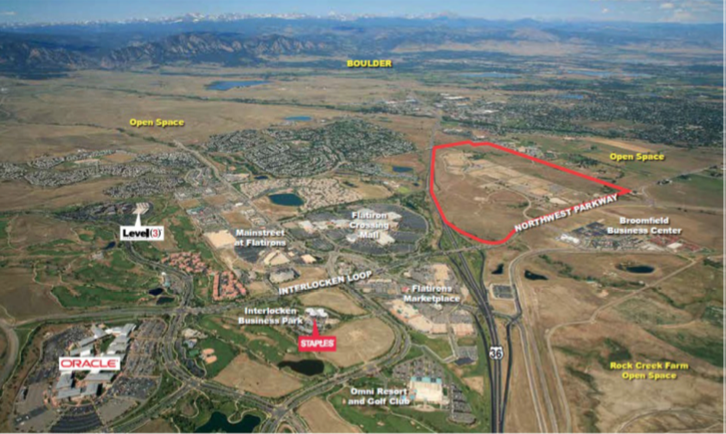 2. Inaccessible Metro Area
Unlike SF, NYC, Chicago, and other major metros, Denver's public transit and roads are severely lacking. A commute from downtown Denver to Boulder (27 miles) takes over an hour each way. There is no train line. Bus lines do exist, but still fall victim to waiting in traffic. Boulder remains largely inaccessible to residents outside of the neighboring towns, especially since 50,000 people already commute to Boulder every single day.
Due to the explosion of growth around Denver (about 250 people move to Denver every day), public transit and construction resources are focused on even higher volume projects. US36 from Denver to Boulder has seen improvements, but even just last year a bridge collapsed and took 3 months to repair.
3. Lack of non-engineering talent
Unfortunately, Boulder's competitive advantages don't really extend beyond engineering. The business school is only ranked #70 nationally. In Boulder there aren't many internships and entry level roles available for non-engineers, so they typically leave the city for opportunities. With high engineering salaries they can't afford to live in the city anyway. This storm leaves a lack of non-engineers that is easily noticed by companies who choose to keep business and other teams outside of Boulder.
Boulder is an incredibly unique city. It's been purposefully crafted to match its residents hopes and dreams. With a world-class university, an abundance of tech companies, and surrounded on all sides by nature preserves it is truly a heaven. But for most of us it is only accessible for a short 4 year window during undergrad and quick weekend trips
Sources:
CU Boulder school rankings:
https://www.colorado.edu/engineering/2019/03/12/cu-engineering-continues-rise-no-17-among-nations-public-engineering-graduate-programs
https://www.colorado.edu/graduateschool/about/rankings-facts-figures
https://www.usnews.com/best-graduate-schools/top-engineering-schools/university-of-colorado-at-boulder-02032
Education by city:
https://www.nerdwallet.com/blog/studies/most-educated-places-america/
CU enrollment by college:
https://www.colorado.edu/oda/sites/default/files/attached-files/fte_post_by_school_0.xlsx
Cost of living calculator:
https://www.nerdwallet.com/cost-of-living-calculator/compare/san-francisco-ca-vs-denver-co
Boulder open space facts:
https://www.hcn.org/issues/288/15159
Tech companies in boulder:
https://www.bouldercoloradousa.com/meetings-and-groups/why-meet-in-boulder/top-industries/technology-companies/